About the Brand
Welcome to the wilderness. Jungly's thoughtfully crafted bars are a gateway to well-being. We redefine what a snack can do to your mind, body, and mood.
Our snacks can create calm, increase focus, strengthen immunity, support digestion, enhance your glow and increase your energy.
From the mind of an artful snacker, Jungly Delights represents centuries of ancient Indian wisdom crafted to suit today.
We believe snacking is a lifestyle, one that we've improved with good mood superfoods and adaptogens that will help you thrive.
With the freshest flavours and carefully crafted textures of crisp, crunch, and chew; we blend and bake a balance of fun, flavour, and function into unparalleled nutrient-rich snacks.
Our carefully portioned packs radiate the love and wonder we have for the natural worlds of plants, herbs, flowers, roots, superfoods and adaptogens.
Through Jungly we want to shape a new generation of healthy, flavorful super snacks packed with positivity, not guilt, brought to your home from the jungle. They're wildly good.
Note from the Founder
You can say I'm a snacker. 
Find me in product aisles in grocery stores, poking around markets, trying out street food. A delicious and healthy snack? That's my holy grail. 
Like most Indians, I grew up with Indian superfoods on my kitchen shelf. But it was while studying in New York that I understood how well they had travelled to the rest of the world. What is a golden latte but the haldi doodh that my Amma would give me at bedtime?
Converting these traditional grandmother's remedies into snacks that are good for you, taste great and are fun to eat was the goal. 
I read, I cooked, I mixed and matched. And I shared, gifting small batches to friends and family, who in turn shared it along. Everyone wanted more - and here we are. 
Jungly is a new generation of super-snacks, packed with positivity, without guilt and minus any unnecessary sugars.
Join me in my mission to make healthy eating a part of our lives. 
From the Jungly in me to the Jungly in you, I wanted to make something wildly good for you. 
Ananya Bhandare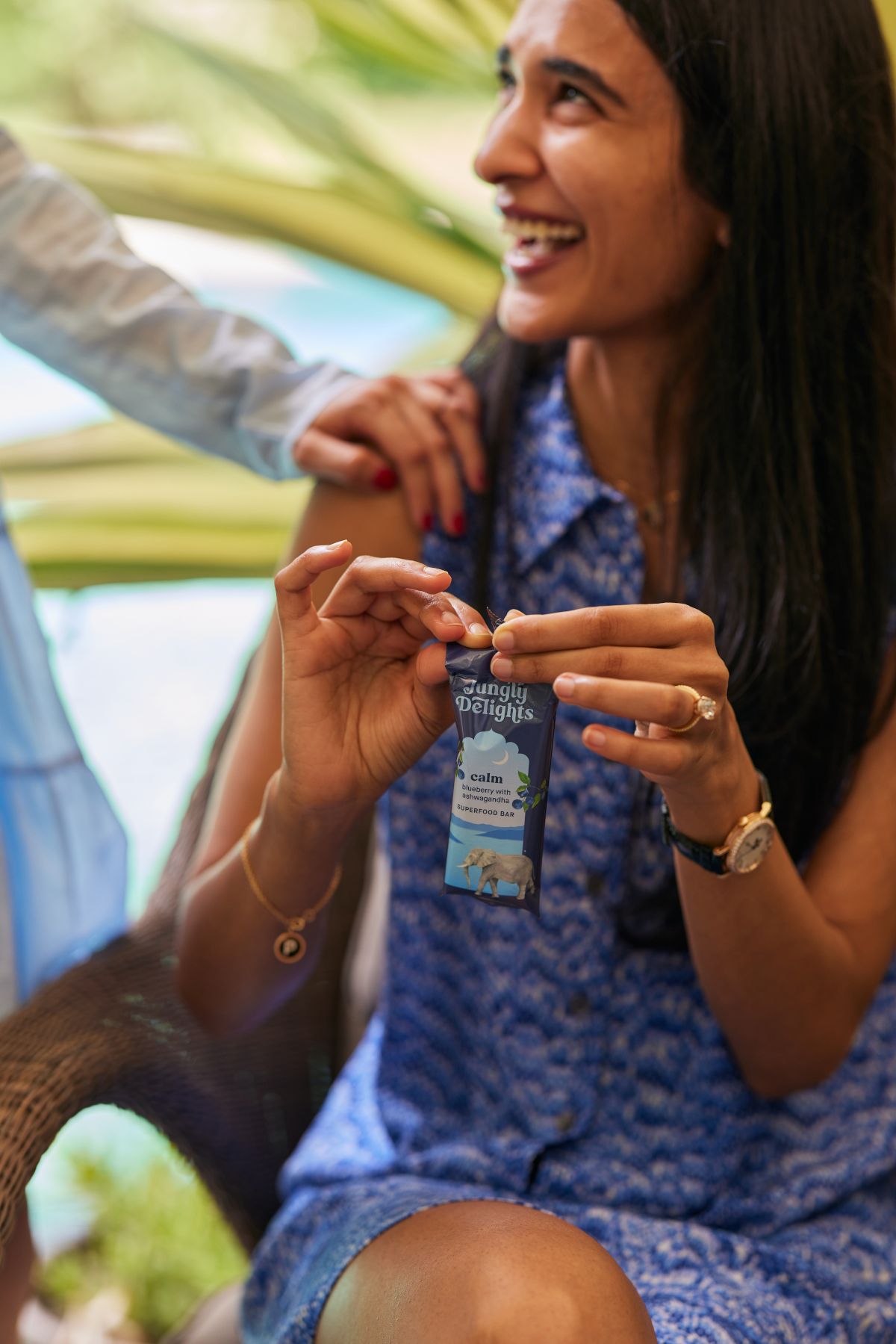 The Jungly Philosophy
Jungly is a way of life. A lifestyle that extends beyond food. Embrace the jungly in you. Go back to your roots and connect with nature. Wake up with the birds, play outside, exert yourself, eat natural and well, hydrate, rest soundly and enough to conquer the next day. Most importantly, listen to your body.

1. Choose to be healthy out of love for your body. Love your body, respect it, nourish it, nurture it.

2. We focus on moderation over deprivation: in eating, exercise, work, play and rest. Balance is key.

3. Choose foods that do more than taste good. Every meal, snack, and bite is an opportunity to nourish mind and body. Choose foods that love you back. Fiber and good fats are great for you and keep you full and satisfied. Choose good instead of low calories foods.

4. Add superfoods and adaptogens to boost your mood, immunity, vibrancy, and vitality.

5.Savor the good things. Savor your food and everyday pleasures. Appreciate what you have. It's scientifically proven to make us happier.

7. Choose natural and wholesome food over all else, slowly releasing energy and nutrients for better digestion.

8. Nourish your life with things that make you grow. Do activities you love, and surround yourself with a community that nurtures you.